Get the Latest Updates Here!

PCRC SmartChoice Food Pantry Online-Ordering Extended to Pottstown Seniors
The Pottstown Cluster of Religious Communities (PCRC) is partnering with Manna on Main Street and The Open Link, reaching out to low-income seniors living in Montgomery County to offer its SmartChoice Food Pantry online-ordering option. The pilot program is called "Extending the Food Security Safety Net". Seniors face many challenges, physically as well as emotionally, and the hope is this option will make life a little easier for them, especially in the winter months.
Approximately 30 of PCRC's current clients utilize the program, 10 of whom work so can not visit the Pantry during normal business hours to use the SmartChoice kiosk. Extending the option to low-income seniors was the natural progression of the program as it is a more flexible option accommodating people with different needs. Volunteers will fulfill the grocery orders, and the orders will be distributed once a month for now.
SmartChoice is Food Pantry software that works to make the most of limited resources while maximizing the amount of food delivered to clients, the flexibility in hours and ways to deliver that food, and the dignity afforded to clients by offering as much choice in food as possible at the Pantry. The software was custom made specifically for food pantries, with easy-to-use touchscreen ordering, kiosk, mobile device, and at-home shopping convenience and real time inventory management and reporting. PCRC started using the SmartChoice software November 2016 with a generous implementation grant from the HealthSpark Foundation to get the system up and running. Pottstown Area Health and Wellness Foundation has provided support for the past three years to underwrite our monthly costs of running the program.
An information session about the Extending the Food Security Safety Net pilot program was held October 9 at the Robert P. Smith Towers in Pottstown.
For more information about this program, contact Vicki Bumstead at vbumstead@pottstowncluster.org.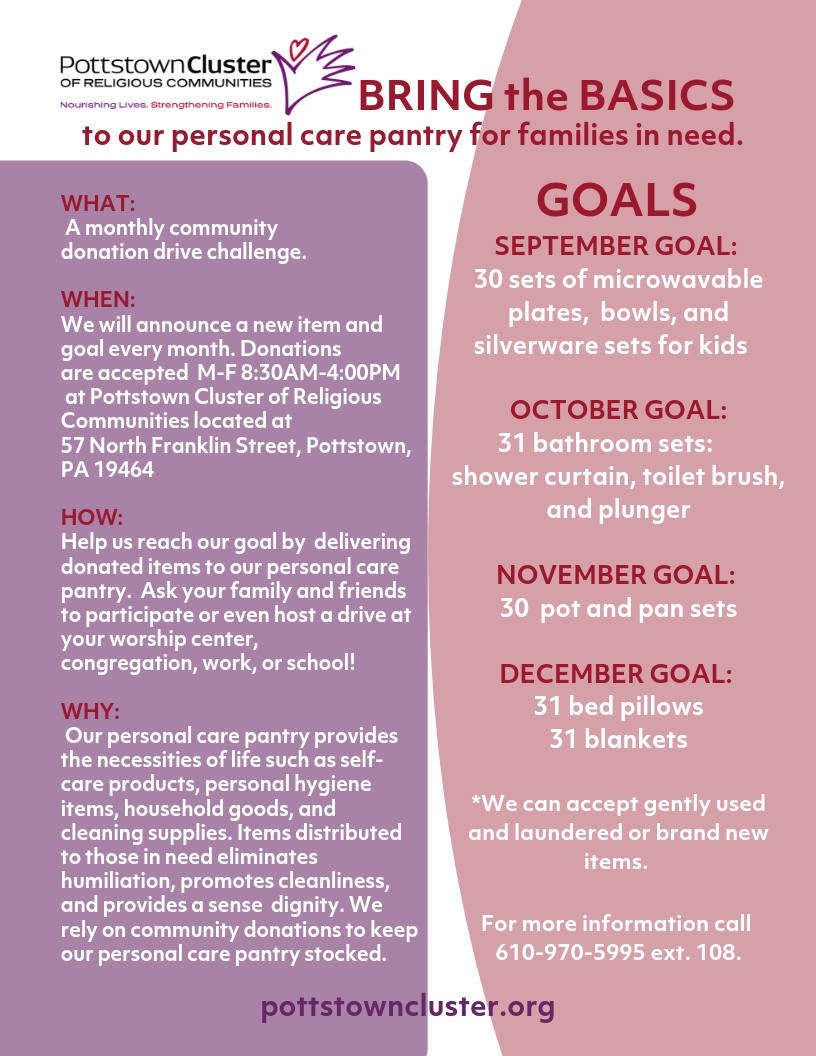 Volunteer Information Session
PCRC held a volunteer information session on Wednesday, October 9, for prospective volunteers. The session included a screening of the new PCRC video, a presentation about current and upcoming volunteer opportunities, and a discussion about the impact and importance of volunteering at PCRC.
For those unable to attend, information about volunteering and a complete list of current and upcoming volunteer opportunities can be found below.
For more information about volunteering, please email: volunteer@pottstowncluster.org.
Why Volunteer at PCRC?
 In 2018, PCRC volunteers provided 21, 567 hours of service in all program areas. Volunteers are the heart of our organizations and a vital part of our ability to provide food security, housing stability, and supportive services and education to the families we serve within and beyond the Greater Pottstown area.
When you Choose to Volunteer You Will:
Gain a better understanding of the community's critical needs in relation to poverty, food security, and housing stability.
Directly see the impact you are having on local people in need and the community as a whole.
Affect change as an individual and as a greater part of a team.
Volunteer Requirements
You must be 18 years or older and have a current child abuse, FBI and criminal clearance in order to volunteer.
Volunteers will complete a brief volunteer interview to match them with the appropriate opportunity.
Volunteers will complete a brief orientation/training to prepare them for assigned tasks.
Current PCRC Volunteer Opportunities
Delivery Drivers Needed in a Digital Effort to Improve Food Pantry Access
Looking for a rewarding volunteer opportunity that allows you be a part of a hunger-fighting solution? We are in need of volunteer delivery drivers to deliver food to homes in a digital effort to improve food pantry access.
Delivery drivers who can be available on Tuesdays and Thursdays
Ability to report to PCRC at 9:30 am
Make 2-6 food deliveries to homes in the area
Must have reliable vehicle (using own vehicle)
Ability to lift 35 lbs (loading and unloading vehicles)
Food Service Program Volunteers
Opportunities are available in the Food Services Program Monday through Friday between 8:30 am–4:30 pm.
Drivers pick up food donations between 8:30 am–10:30 am
Warehouse volunteers unload donations and stocks shelves between 8:30 am–10:30 am (Must have the ability to lift 50 pounds)
Food is then distributed to families between 10:30 am–1:00 pm
Food is then sorted and scanned between 8:30 am–10:30 am and 1:00 pm–3:00 pm
Outreach Center Volunteers
Opportunities are available at the Outreach Center Monday through Friday 8:30 am to 12:30 pm.
Host/Hostess for Pantry — escort clients while shopping in the Food Pantry
Client Intake — enter client information on our database (must have strong computer skills)
Administrator/Receptionist — data entry, general administrative duties, answer phones, assist clients.
Community Meals Volunteers
Opportunities are available at various participating worship centers. Lunches are served from 11:45 am–1:15 pm and Dinners are served from 5:00 pm – 6:30 pm.
Prepare community meals
Serve meals
Cleanup after meals
Mentor a UP3 Graduate
What will volunteer do? Mentor a UP3 graduate once a week for an hour for at least six months. Mentorship will be determined by mentor and mentee; Mentor can offer a set of individual skills they would like to offer (could be anything from cooking to time-management, budgeting, mindfulness skills, etc.)
What is required? Must complete UP3 Community Cohort for six weeks — only once a week; demonstrate empathy and ability to be open and understanding. Mentorship training opportunity is available for additional resource if interested.
Time commitment: One hour per week with a matched individual for at least six months.
Requirement: Must possess driver's license.
Who to contact for more information about becoming a mentor?
Ryli Meyer
rmeyer@pottstowncluster.org
cell: 215-882-0952
For more information visit pottstowncluster.org/volunteer or contact volunteer@pottstowncluster.org.

PCRC Holiday Food Boxes and Gift Program
About the 2019 Holiday Program:  PCRC will be distributing 200 food boxes to families in Pottstown along with toys for up to 250 children (under the age of 16).
The toy distribution will be on Monday, December 9, and the last day of toy donations will be Friday, December 6. The food box distribution will be Wednesday and Thursday, December 18 and 19. The last day for food donations will be Friday December 13.
Volunteer Opportunity: Help sort and organize toys and food in preparation for the distribution to children and families.
Time commitment: The holiday program needs volunteers on Saturday, December 7, from 10:00 am-2:00 pm; Monday, December 9, from 9:00 am-3:00 pm (broken down into 2-hour shifts 9:00 am-11:00 am, 11:00 am-1:00 pm, 1:00 pm-3:00pm — only looking for 4-5 volunteers per time slot); and December 18 and 19 (both days from 9:00 am-1:00 pm. Also in 2-hour shifts).
For more information or to volunteer, contact volunteer@pottstowncluster.org.

How Time Flies…
PCRC's successful fall fundraiser, "You Gotta Have Heart", is behind us. Many thanks to the entire Board, Board Development Committee (Chair Liz Peters, Barbara Wilhelmy, Mary Ann Glocker, Rich Newell, Amy Lehman, Wendy Lucas, Lisa Kania, Janet Simmons, Merri Brown, Amanda Hoffman), and community for your generous and faithful support. The Board is now focusing on the 2020 budget, completing work on PCRC's newest staff and educational space, "61", and evaluating and planning how we move forward to continue our mission. This past year PCRC has piloted several initiatives to benefit more people to use our pantry, especially those who are unable to physically visit us, and has partnered with Habitat for Humanity of Montgomery and Delaware Counties and Philabundance for educational programs. The Governance Committee is continuing to focus on "Best Practices" so our Board can serve the mission and the people in Pottstown in the best way possible.
The Board thanks the community for its constant support in all its endeavors, and is always looking for new members to serve this wonderful and critical organization. If you or someone you know has an interest in serving, please contact volunteer@pottstowncluster.org.

PCRC Staff Members Continue to Volunteer for Community Meals
Staff members of the Pottstown Cluster of Religious Communities are continuing to volunteer for a once-a-month Community Meal luncheon at Christ Episcopal Church. It is a great way to be out in the community serving our neighbors in need and meeting new people, living into our mission. Our Delegate Assembly has been providing meals, five days a week, for many many years, and we are grateful for the partnership with area Worship Centers who are committed to the critical initiative. Won't you join us in volunteering?
If interested in volunteering for this or any other volunteer opportunities at PCRC, contact volunteer@pottstowncluster.org.