Get the Latest Updates Here!
Pantry Particulars: Monthly Donation Drive Challenge and most needed items
Volunteer Voices: Volunteer Opportunities
A Message from the Board of Directors: Introducing PCRC's Newest Board of Directors Members
Delegate Assembly: February Delegate Meeting and 2020 meeting schedule 
Donate Goods
When you donate gifts-in-kind, you are bringing resources to individuals and families in need of food security, housing stability, supportive services and education. Donations of all sizes help further our work and make a difference in the lives of our neighbors in need.
Below is a list of our current most needed items and information about our monthly donation drives. We update our most needed items on a regular basis.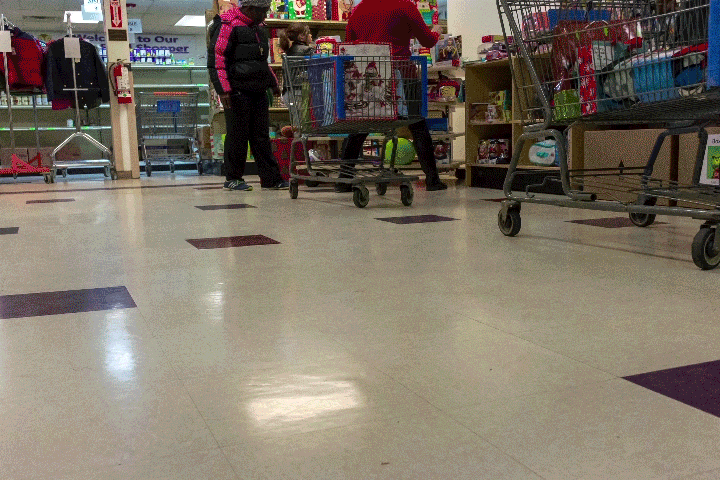 Our Current Most Needed Items:
*Seasonal Update: We are in need of new or clean and gently used men's winter coats and hats and gloves for men women and children.
Kids plastic cups
Kids Microwavable plates and bowls
Kids Silverware
Shower Curtain Kits
Toilet bowl brush sets
Toilet Bowl Plunger
Pots and Pans
Cookie Sheets
Baking Dishes
Pillows
Blankets
Silverware
Microwavable plate sets
Drinking glasses
Cooking utensils
Laundry baskets
Paper Towels
Toilet paper
Cleaning buckets
Can Openers
Kitchen size trash cans
Kitchen size trash bags to fit trash cans
Aluminum foil
Plastic Wrap
One-gallon Food Storage Bags
Half-gallon Food Storage Bags
Sandwich Bags
Plastic Bag
One-inch brown Masking Tape
DONATIONS ARE ACCEPTED Monday through Friday from 9:00 am to 4:30 pm
PANTRY HOURS: 10:30 am to 12:30 pm; Call 610.970.5995 for special circumstances
Bring the Basics to our personal care pantry to help local friends and neighbors in need! We will announce a new item and goal every month.
Each month, you can help us reach our goal by simply delivering donated items to our personal care pantry. You can also ask your family and friends to participate or even host a drive at your worship center, congregation, work, or school!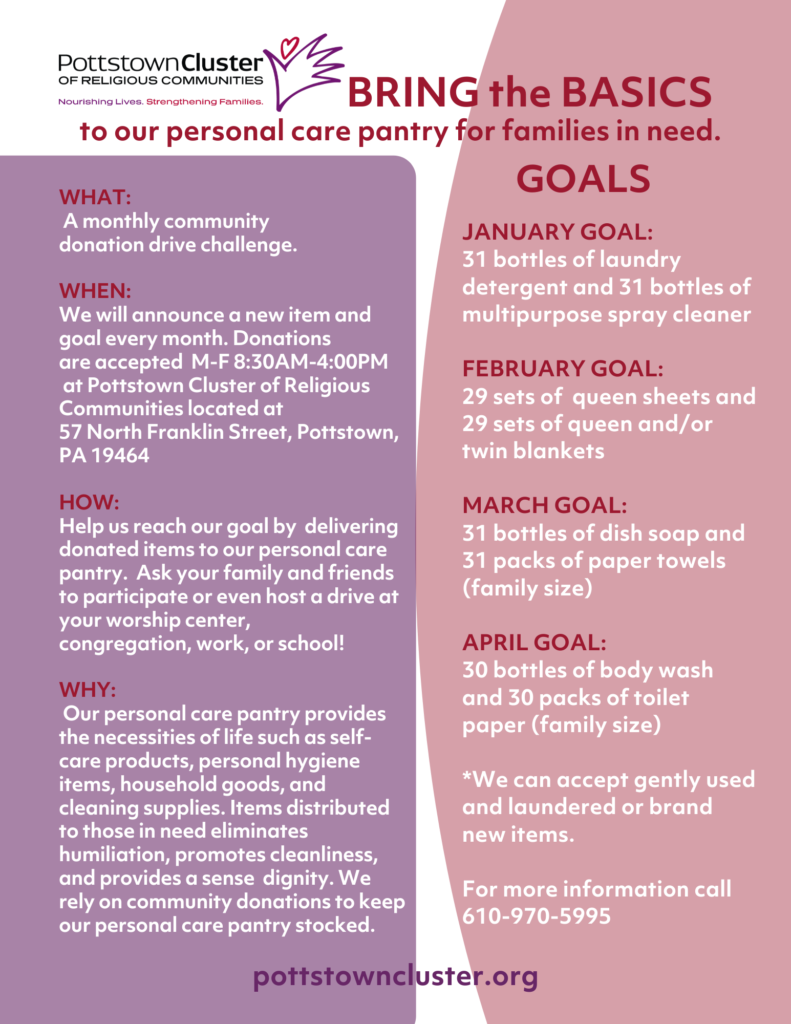 Why Volunteer at PCRC?
 In 2018, PCRC volunteers provided 21, 567 hours of service in all program areas. Volunteers are the heart of our organizations and a vital part of our ability to provide food security, housing stability, and supportive services and education to the families we serve within and beyond the Greater Pottstown area.
When you Choose to Volunteer You Will:
Gain a better understanding of the community's critical needs in relation to poverty, food security, and housing stability.
Directly see the impact you are having on local people in need and the community as a whole.
Affect change as an individual and as a greater part of a team.
Volunteer Requirements
You must be 18 years or older and have a current child abuse, FBI and criminal clearance in order to volunteer.
Volunteers will complete a brief volunteer interview to match them with the appropriate opportunity.
Volunteers will complete a brief orientation/training to prepare them for assigned tasks.
Current PCRC Volunteer Opportunities
Delivery Drivers Needed in a Digital Effort to Improve Food Pantry Access
Looking for a rewarding volunteer opportunity that allows you be a part of a hunger-fighting solution? We are in need of volunteer delivery drivers to deliver food to homes in a digital effort to improve food pantry access.
Delivery drivers who can be available on Tuesdays and Thursdays
Ability to report to PCRC at 9:30 am
Make 2-6 food deliveries to homes in the area
Must have reliable vehicle (using own vehicle)
Ability to lift 35 lbs (loading and unloading vehicles)
Food Service Program Volunteers
Opportunities are available in the Food Services Program Monday through Friday between 8:30 am–4:30 pm.
Drivers pick up food donations between 8:30 am–10:30 am
Warehouse volunteers unload donations and stocks shelves between 8:30 am–10:30 am (Must have the ability to lift 50 pounds)
Food is then distributed to families between 10:30 am–1:00 pm
Food is then sorted and scanned between 8:30 am–10:30 am and 1:00 pm–3:00 pm
Outreach Center Volunteers
Opportunities are available at the Outreach Center Monday through Friday 8:30 am to 12:30 pm.
Host/Hostess for Pantry — escort clients while shopping in the Food Pantry
Client Intake — enter client information on our database (must have strong computer skills)
Administrator/Receptionist — data entry, general administrative duties, answer phones, assist clients.
Community Meals Volunteers
Opportunities are available at various participating worship centers. Lunches are served from 11:45 am–1:15 pm and Dinners are served from 5:00 pm – 6:30 pm.
Prepare community meals
Serve meals
Cleanup after meals
Mentor a UP3 Graduate
What will volunteer do? Mentor a UP3 graduate once a week for an hour for at least six months. Mentorship will be determined by mentor and mentee; Mentor can offer a set of individual skills they would like to offer (could be anything from cooking to time-management, budgeting, mindfulness skills, etc.)
What is required? Must complete UP3 Community Cohort for six weeks — only once a week; demonstrate empathy and ability to be open and understanding. Mentorship training opportunity is available for additional resource if interested.
Time commitment: One hour per week with a matched individual for at least six months.
Requirement: Must possess driver's license.
Who to contact for more information about becoming a mentor?
Ryli Meyer
rmeyer@pottstowncluster.org
cell: 215-882-0952
For more information visit pottstowncluster.org/volunteer or contact volunteer@pottstowncluster.org.
Our first Delegate Meeting will be held:
Monday, February 24th from 9:00 – 10:00 AM
At PCRC's Education and Administrative Building
61 N. Franklin Street, Pottstown
Yes, we have occupancy of the 1st and 2nd floors and we are excited to show you that space!
Light refreshments will be served between 8:30-9:00
Topic Focus: 2020 Census and How it Effects All of Us
We plan to hold three other meetings during 2020, around the following topics:
May – Meeting Focus will be on our Women Helping Women Initiative
September – Meeting Focus will be on Food Security and how we are all working together
November – Meeting Focus will be on Housing Security and how we are all working together
Specific Dates, Times and Meeting Place will be announced at the beginning of each month.
We encourage you to join us for all meetings or for those meetings whose topics are of interest to you. We also strongly encourage you to bring a friend, from your congregation or beyond, as we welcome the opportunity to share our work with anyone in the surrounding community who wants to partner with us.
Introducing PCRC's Newest Board of Directors Members
PCRC welcomed newest Board of Directors members — Ann Maletsky-Morton, Jill Dennin, and Rev. Joshua Caler   — in the new year. They are immediately getting to work to help support our organization. We are grateful they have decided to serve us with their time and collective talent and experience, and passion for our mission. We welcome:
Jill Dennin
Jill Dennin has most recently worked as a substitute teacher and she also has served on the Boyertown Area School District School Board for the past six years. She has lived in Gilbertsville for the past 25 years, where she has been involved and volunteered for many community organizations.
Jill has worked in federal/state relations and as a fundraiser for the Leukemia Society. She strongly feels that the Pottstown Cluster of Religious Communities provides an important and vital service to our community and she plans to use her experience with development, fundraising, and networking to support the organization's development and fundraising goals. The PCRC Development Committee also welcomed her as a new member in January. 
Ann Maletsky-Morton
Ann Maletsky-Morton has worked in progressively responsible financial positions over the past 15 years. Her areas of expertise are; Budgeting/ Forecasting, Ad-hoc Analysis, Financial Statements, Innovation Management, Six Sigma practices, and preparation of monthly reporting packages for report to Senior Leadership. 
She has a Bachelor of Science in Finance from Penn State University and a Master of Business Administration with a concentration in Finance and Innovation Management from Drexel University.
Ann  joined the PCRC board to help make an impact in the Pottstown community. She strongly believes in the organization's mission and vision and feels the work PCRC does in the Greater Pottstown ares is desperately needed.
Rev. Joshua M. Caler
Rev. Joshua M. Caler, a (Western) Pennsylvania native, has served as the 27th Rector of Christ Church, Pottstown since Easter, 2018. Previously, Fr. Joshua lived and served at St. Stephen's House, Oxford with his family while working on a post-graduate degree with the theology faculty of the University of Oxford. A graduate of Grove City College (B.A., 2004) and Duke Divinity School (M.Div., 2011), he had previously served as Canon for Evangelism and Parish Life of Christ Church Cathedral in Nashville, Tennessee
Fr. Joshua strongly believes in PCRC's mission and vision. He joined the PCRC board to help make an impact in the Pottstown community.
PCRC thanks its "Big Heart+" Supporters and its Community Partners!