Message from the Board of Directors:
Introducing PCRC's Newest Board of Directors Members
PCRC welcomed three new Board members in the new year. They are immediately getting to work to help support the organization. PCRC is grateful each have decided to serve us with their time and collective talent and experience, and passion for our mission. We welcome:
MICHAEL L. CROSS
Michael L. Cross, CPA, is a Senior Consultant at Herbein + Company, Inc., located in the Pottstown office. His initial affiliation with Pottstown began in 1958 when he and his father visited Bechtel's Sporting Goods and he received his first baseball glove. In September 1982 he opened the Michael Cross & Co., Ltd., CPA firm. He owned and operated the firm for 35 years until it merged with Herbein + Company Inc. in 2017.
Michael's interest in the Pottstown Cluster of Religious Communities (PCRC) began while attending its annual fundraiser event in 2017. He was very impressed with its operation and direct support to the local community. Given his 46 years of expertise and experience in the financial and business environment, he believes he can be of assistance in the fundraising area at PCRC, and help enhance an already very successful organization.
MATT GREEN
Matt Green is a 35-year resident of Pottstown with previous work experience at the Pottstown School District and the Borough of Pottstown. Matt is a 15-year veteran of law enforcement, including eight years with the Pottstown Police Department as a patrolman. For the past four years, he has been working as a Realtor for Glocker and Company Inc., a local real estate brokerage. Matt has deep roots in the community and hopes to use his knowledge, skills, and experience to advise and assist the Pottstown Cluster of Religious Communities with a focus on housing and local government issues. In his free time, Matt enjoys outdoor activities and spending quality time with his friends and family, especially with his three teenage sons.
JUDITH L. WATTS
Judith L. Watts is an associate with the Pottstown law firm Yergey Daylor Attorneys at Law.  She has a diverse general practice that includes criminal defense, family law, and wills and estate law. Judith has been practicing law in the Pottstown area since 1994 and believes in the mission of the Pottstown Cluster of Religious Communities. She is honored to serve on the Board of Directors of this well regarded organization.

UP3: Understanding Poverty to Plan and Preserve Spring 2019 Session
The Pottstown Cluster of Religious Communities' UP3 program, "Understanding Poverty to Plan and Persevere," kicked off its 2019 spring session with 11 participants on Wednesday, February 27, 2019. UP3 is 16-week workshop series that utilizes Bridges Out of Poverty framework concepts and involves under-resourced participants who are working to overcome poverty.  The program allows for a "kitchen-table" discussion-style investigation into poverty, where participants, as investigators, explore their resources, and forge further stability through establishing partnerships and by bridging social capital within their community.
Since its inception in 2013, UP3 has positively impacted the lives on over 100 participants living in poverty by helping them forge stability and accomplish individualized goals. Goals have ranged from getting a better job to improving housing and enhancing social capital to increasing hope.   
For more information contact:
Ryli Meyer, Community Engagement Specialist, RMeyer@PottstownCluster.org

Pantry Particulars
Are you ready for the MADNESS of our March Donation Drive?
Learn more in Bring the Basics  – and join the MADNESS of the Cleaning Supply Challenge!

Volunteer Voices
April 7-13, 2019, is National Volunteer Week! If you are a current or past PCRC volunteer, or if you are considering becoming a volunteer, we want to celebrate you at our Volunteer Appreciation Breakfast! Join us on Thursday, April 11. 2019, 8:30 –  10:30 am at The Hill School Center for the Arts. R.S.V.P. deadline is April 5. Click here for details.

Word from PCRC's Delegate Assembly
Meet the Members of PCRC's Delegate Assembly: Dawn Varady
The Pottstown Cluster of Religious Communities (PCRC) Delegate Assembly is a meeting of the representatives and clergy of various religious and other organizations in the Pottstown Region who meet periodically with representatives of PCRC helping to support its mission. PCRC is indebted to those who faithfully support us in this way. We'd like you to meet Dawn Varady, a faithful volunteer and Delegate.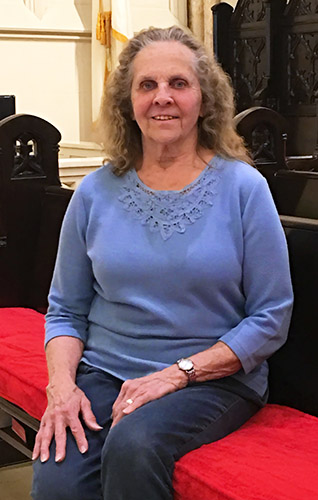 DAWN VARADY came to Emmanuel Lutheran Church in Pottstown at age 15. She was invited by friends and immediately loved it. Over time, she participated in the congregation's Luther League group, choir,  the Worship and Music Committee, and served on the Congregational Council for nine years, then after a two year hiatus, served for three more years.
Volunteering as a Way of Life
Dawn was brought up in a service-oriented family where, "It was a given — we helped other people in any way we could." This led to her long-standing relationship with the Pottstown Cluster of Religious Communities (PCRC). Dawn volunteered at PCRC when it was located on Walnut Street as well as in its current space (the old American Legion building) which she says was "like home to me". She felt it gave clients dignity, as they were able to have a choice about the food they received. She bagged home orders every Tuesday. "It was a continuation of what I did growing up," she said. "Following what God has put out there for us to do." She loved working at PCRC, helping people in need.
Delegate Assembly Service
Dawn is a faithful supporter of everything PCRC does, and a great ambassador. Her volunteer work at PCRC led her to become part of the Delegate Assembly about 12 years ago, when, because of Emmanuel's childcare center, the church wasn't eligible to be a shelter, so Dawn and other congregants asked themselves, "What can we do?" It turns out there was a need for a host church for PCRC's Community Meals program. Emmanuel has been hosting every ever since and Dawn is a big part of keeping it running smoothly. She is the coordinator for Emmanuel's meals, taking care of scheduling, room and kitchen set up and breakdown, and is a liaison for any issues and challenges that come up.
The mission of the Delegate Assembly is "a place where a meal is shared and relationships are formed with the staff of the Pottstown Cluster of Religious Communities, the Delegates, and clergy. Staff members of the Cluster report on the need for fundraising, volunteers, goods, and services, as well as current projects and uplifting experiences. The Delegates are then charged to pass this information to communities they represent to motivate, lead, and accomplish active participation in the work of the Cluster." Dawn takes the mission of the Delegate Assembly seriously and strives to include PCRC updates and information in Emmanuel's weekly Bulletin, as well as relays the needs to the congregation.
Personal Life
Dawn attended LPN school while raising eight children, graduating in 1983. She was employed as a nurse by Montgomery County Geriatric and Rehabilitation Center (now Parkhouse Nursing and Rehabilitation Center) and retired in 2005. She keeps very busy as an avid scrapbooker and gardener, loves music, and as someone who loves to dance, is an active member of United Singles! She raised eight children, is the proud grandmother of 21 grandchildren, 19 great-grandchildren, and two great-great grandchildren!
Dawn shared that her favorite part of being a Delegate is "The camaraderie with the other delegates and staff members of PCRC all working toward a common goal: Nourishing Lives, Strengthening Families, and helping clients improve their overall stability."
If you are interested in becoming a member of the Delegate Assembly, or for more information, please call 610-970-5995, or email communications@pottstowncluster.org.
---
Remembering Faithful Delegate Linda Moyer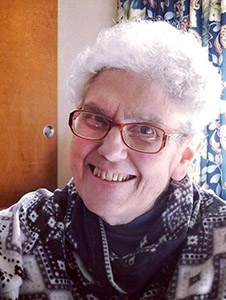 Linda K. (Kachel) Moyer, a dedicated member of PCRC's Delegate Assembly, passed away Monday, February 18, at Sanatoga Court, Pottstown. She was born in Pottstown and was the was a daughter of the late Donald H. Kachel and the late Florence M. (Stoudt) Kachel. Linda worked as a secretary at her beloved St. John's United Church of Christ, Pottstown, for 27 years, worked in the nutrition department at PMMC for four and a half years, and worked in the office at Firestone Tire & Rubber Co. for seven years. She was a member of St. John's United Church of Christ where she was a deacon, Sunday school teacher, and a member of the choir. Linda also was a delegate for the Pottstown Cluster of Religious Communities (PCRC) and a delegate for Church Women United. She was a member of Senior Circle, the Pottstown Area Senior Center, and a volunteer at Rupert Elementary School.
According to fellow PCRC Delegate Assembly members, Linda and her husband David were dedicated to the work of the Pottstown Cluster, and remember that Linda had a flair for decorating and cooking when St. John's United Church of Christ hosted the Delegate Assembly luncheons. But she was known mostly for doing a superb and timely job of calculating the Redner and Professional Pharmacy tapes, which was so helpful, and for her great sense of humor, often joking about the Redner receipts!
Not only did Linda volunteer her time and talent to the PCRC Delegate Assembly, but she and her husband also were consistent supporters.
Linda is survived by three sons, the Rev. Michael D. Moyer of  Berlin, MD; Jeffrey S. Moyer and his wife Erica of Schwenksville, PA; and Matthew D. Moyer and his wife Jennifer of Barto, PA; and five grandchildren: Sasha, Andrew, Isabelle, Addison, and Erik.
A memorial service was held on Friday February 22, 2019, at St. John's United Church of Christ, officiated by the Rev. Karen Nuscher Creasy.
Linda Moyer's homegoing leaves a gap in all the areas where she served her community so well. Her commitment to the Cluster and her presence at the Delegate Meetings is something we remember and celebrate. We are grateful for her legacy of service and inspiration — her grandsons, Andrew and Erik, have contacted PCRC inquiring "If we can help and do community service work at the Pottstown Cluster for our senior project. We are always looking to help the Pottstown community just like our grandmother did." A heartening legacy indeed.
---
Pottstown COMMUNITY MEALS Schedule
Monday
Lunch – 11:45 am
Christ Episcopal Church
316 East High Street | 610-323-2895
Dinner – 5:00 pm*
Chesmont Church of Christ
699 North Pleasantview Road | 610-970-1630
*Van pick up at Library
Tuesday
Dinner – 5:00 pm
Trinity Reformed United Church of Christ
60 North Hanover Street |610-326-2243
Dinner – 6:00 pm
Emmanuel Lutheran Church
150 North Hanover Street | 610-323-4312
Wednesday
Lunch – 11:45 am
Salvation Army
137 King Street | 610-326-1621
Dinner – 7:00 pm**
First United Methodist
414 East High Street | 610-326-0560
**June through September Only
Thursday
Dinner – 5:00 pm
First Presbyterian Church
750 North Evans Street | 610-326-0620
Friday
Lunch – 11:45 am
Emmanuel Lutheran Church
150 North Hanover Street | 610-323-4312
Saturday
Dinner – 5:00 pm
Emmanuel Lutheran Church
150 North Hanover Street | 610-323-4312
Drop in Center 9:00 am-5:00 pm
Trinity Reformed United Church of Christ
60 North Hanover Street |610-326-2243
(November through April)
Sunday
Lunch – 12:10 pm
Pottstown Bible Church
431 East High Street | 610-340-0738
---
2018/19 Delegate Assembly Dates and Locations
Thursday, May 2
12:15 pm | Location to Come
Thursday, September 5
12:15 pm | Location to Come

Thursday, November 7
12:15 pm | Location to Come

To share your thoughts in the Comments section – scroll down