Everything You Need to Know Happening at PCRC
New Volunteer Opportunity: Delivery Drivers Needed in a Digital Effort to Improve Food Pantry Access
Looking for a rewarding volunteer opportunity that allows you be a part of a hunger-fighting solution? We are in need of volunteer delivery drivers to deliver food to homes in a digital effort to improve food pantry access.
Visiting a food pantry can be a challenge. The limited hours, the stigma, the difficulty of finding transportation, and some people's physical disabilities all can make visiting a daunting experience.
To improve food pantry service, the Pottstown Cluster of Religious Communities has joined MontCo Anti-Hunger Network (MAHN), Advanced Living Communities (parent company of Schwenckfeld Manor, a Lansdale housing site), and the HealthSpark Foundation to connect people to food pantries via the computer. This new hunger-fighting solution mimics online grocery ordering and provides people with the option to order pantry food from a website.
Can you help? We are looking for:
Delivery drivers who can be available on Tuesdays and Thursdays
Ability to report to PCRC at 9:30 am
Make 2-6 food deliveries to homes in the area
Must have reliable vehicle (using own vehicle)
Ability to lift 35 lbs (loading and unloading vehicles)

Save the Date!
"Celebrate Service with Heart" is the theme of the upcoming You Gotta Have Heart fall FUNraising event.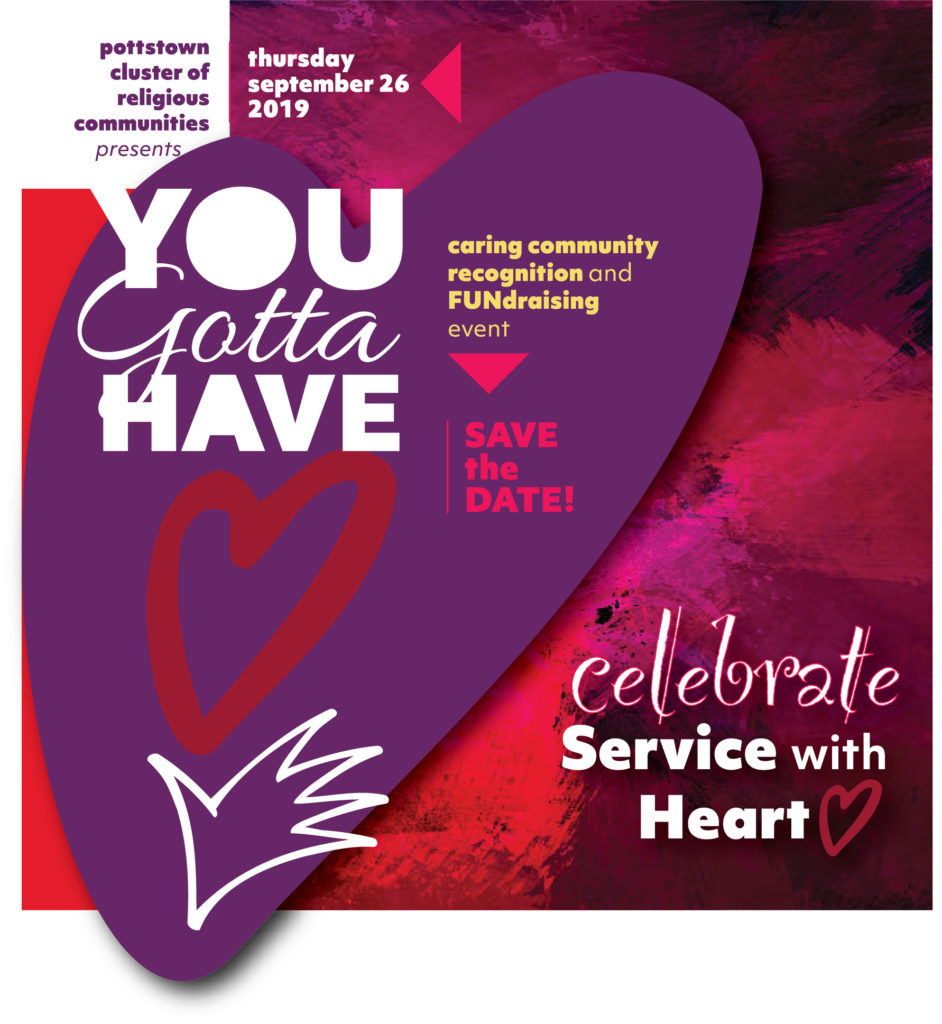 You are invited to join us at our 8th annual fundraiser "You Gotta Have Heart" on Thursday, September 26, from 5:30 pm to 8:30 pm at The SunnyBrook Ballroom.
"Celebrate Service" with us during an evening of fine food, awards, inspirational stories, entertainment, FUNraising, and more! All proceeds support PCRC's mission.
To learn more, or to become a sponsor, please contact Merri Brown: call 610.970.5995 or email mbrown@pottstowncluster.org; or visit pottstowncluster.org/yougottahaveheart.