Everything you need to know happening at PCRC!
Are you ready for the MADNESS of our March Donation Drive?
Learn more in Pantry Particulars – and join the MADNESS of the Cleaning Supply Challenge!

Volunteer Appreciation Breakfast on Thursday, April 11

If you are a current or past PCRC volunteer, or if you are considering becoming a volunteer, we want to celebrate you at our Volunteer Appreciation Breakfast!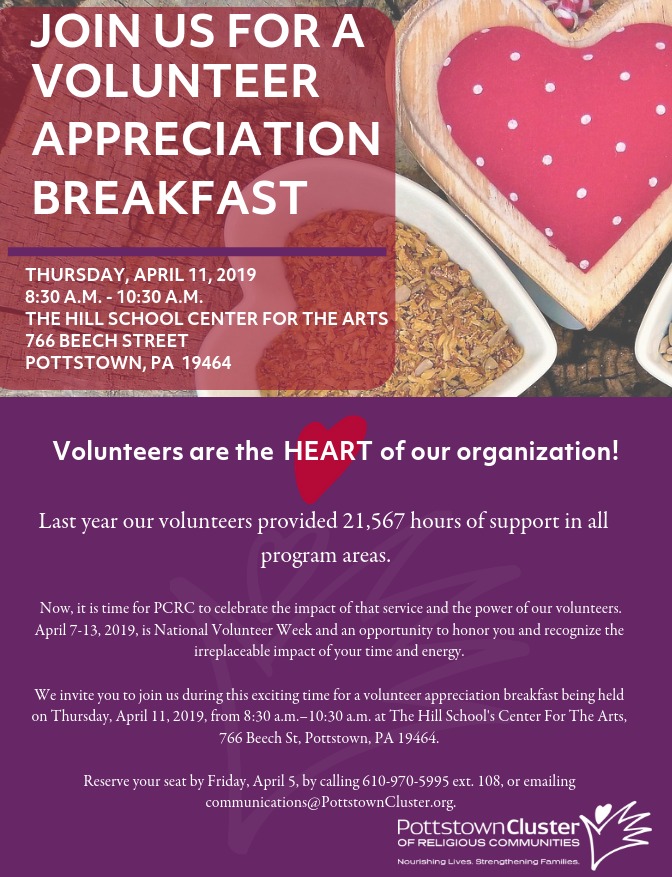 R.S.V.P. Today: 610-970-5995 ext. 108 or email communications@PottstownCluster.org . R.S.V.P. deadline Friday, April 5.

Upcoming Events – more information to come!
​Ladies' Night Out Event – Coming this Spring, Details soon!
Annual Signature Page Fundraising Opportunity in June – Information coming soon!
Save the Date! Fall Fundraising Event on Thursday, September 26
To share your thoughts in the Comments section – scroll down